Businesses can boost the profitability of their investments in various ways, one of which is through private equity funds. While private equity is restricted to a small number of investors, information about fund structures, fees, and partnership agreements is widely available. As one of the top private equity firms in India, an M&A platform, and a strategic advisory platform, Swell Financial knows the ins and outs of private equity. Continue reading to learn more about the structure of private equity investments. Let's start with the basics of a private equity fund.
What is the concept of private equity?
Private equity refers to funds and investors who make direct investments in private businesses. PE funds are referred to be "closed-end investment vehicles" since their fundraising window is limited. There will be no more capital available once that window has closed. Leveraged buyouts, distressed debt, and funds of funds are all options for private equity funds.
What is the purpose of PE?
The primary goal of private equity is to manage large sums of money invested in high-yielding businesses. Most companies have the ability and skill to turn around underperforming enterprises by enhancing operational efficiencies and earnings. They also boost the company's profitability. Working capital is an important indicator of a company's efficiency and short-term financial health, and it can be increased with private equity funds.
Why do businesses seek private equity?
Private equity is a different type of finance that entrepreneurs and company owners can access without worrying about quarterly results. PE firms typically invest for a set period, typically four to seven years, after which they hope to profitably exit the investment and move on to the next one. Now, let's discuss,
How are private equity investments structured?
To comprehend how private equity investments are designed, it's important to realize that a fund's "General Partner" (GP) comprises its partners. They seek capital commitments from Limited Partners (LPs), who are usually institutional investors. Pension and endowment funds, retirement funds, insurance firms, and high-net-worth individuals are institutional investors.
A single private equity firm, if successful, will manage multiple funds and raise a new fund every few years. Then, they invest or buy portfolio companies with the money they have saved.
In most cases, LPs offer capital. They don't get to choose which businesses to invest in. The experts will take care of it. If the LPs are dissatisfied with the GP's performance, they may decide not to invest in the PE fund again.
Private equity firms are organized as partnerships, with one general partner (GP) making the investments and multiple limited partners (LPs) contributing funds. A Limited Partnership Agreement (LPA) will be signed by all of the fund's institutional partners, outlining the conditions of the partnership. Special terms may be requested in a side letter by some LPs. LPs are only liable up to the value of their investment in the fund, whereas GPs are liable indefinitely.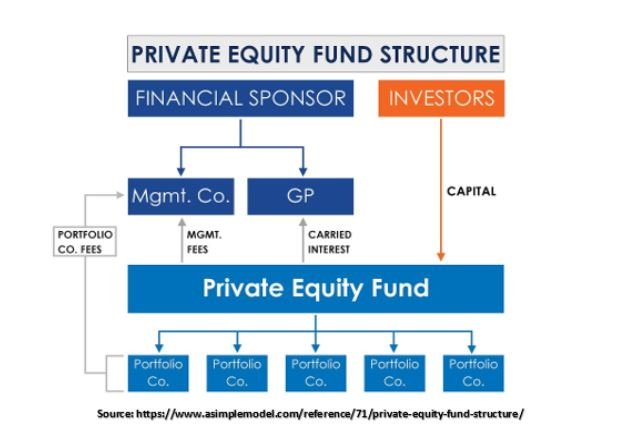 The fund's duration, the percentage of the management fee, how profits will be divided and paid out, institutional partners' rights and obligations, and restrictions imposed on the GP are all common terms found in an LPA.
An LLC or a Limited Partnership is usually the foundation of a PE fund. This practice protects investors while still allowing them to profit from a company's growth and success.
Limited Partners (LPs) are investors who control 99 percent of a private equity fund's shares and have limited liability. General Partners (GP), who are in charge of executing and operating the investment, own 1% of the stock and are fully liable.
Shareholder loans, preferred shares, CCPPO shares, and ordinary shares are the four subcategories of private equity.
Shareholder loans: These are a type of finance supplied by the company's shareholders. This is usually a junior debt that is part of the company's debt portfolio and can be exchanged like equity.
Preferred share: It is a type of stock in which the payment of preferred stock takes precedence over the price of common stock.
CCPPO shares: These are the most common shares that include cumulative, convertible, participating, and preferred-dividend ordinary shares. These are rare shares with various features, including cumulative dividends.
Ordinary shares: These are shares in a business venture.
Private equity firms have various roles and duties like the funds they manage and the limited partnership agreements they join. Typically, equity firms are operated by a hierarchy that begins with analysts or interns at the bottom and works its way up to partners at the top. Contact Swell Financial to learn how we may help you improve your investment and fundraising efforts.